Please wait ...
Close X
You may be interested in the following items
Wine Barrel Hire Perth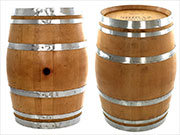 Hire King now has a range of whole barrels, half barrels and barrel bars available for hire. The majority of the barrels are made from French Oak and have all previously been used in wine making around Western Australia.
Wine Barrel Specs
Each whole wine barrel weighs between 40 and 55kg. At time of delivery we will ensure the barrel is placed in the location you need it avoiding the need for you to move the wine barrels. The width of the wine barrel at its widest point is about 0.7m while the head of the barrel (where you will be placing drinks, decorations etc.) measures 0.54m in diametre. The wine barrels are 0.96m high. Half wine barrels are usually 0.45-0.48m.
Free Delivery & Pickup

All our wine barrel packages include free standard delivery and collection. Once you choose one of our wine barrel packages you can add any other equipment from our extensive range and have it delivered along with your wine barrels for no extra charge.
You may also be interested in:
Questions? No problems we'll be in touch (usually within a few hours). Can't wait? Give us a call on 6180 3899 during business hours.
A standard hire for the weekend is from Friday to Monday. You may choose to pickup (or have delivered) your equipment on Saturday if you wish. Our standard hire period for weekdays is for one night however we can usually accommodate pickup the day before your event and return the day after if required.