Please wait ...
Close X
You may be interested in the following items
Bean Bag Hire Perth
Some Bean Bag Hire Ideas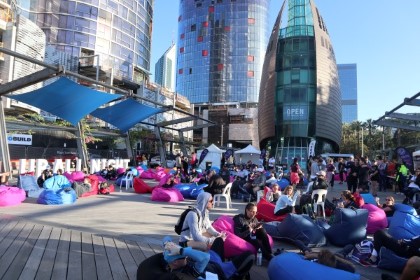 Are you planning an informal, event; large or small and you require some casual, funky, practical and comfortable seating that suits everyone and brightens any event or function?
Bean bags are what you need!
We have a huge range of bean bags available for hire in a variety of colours and a featuring a couple of different styles. Our bean bags are practical, hardwearing, tough and perfect for a diverse array of events/ functions. These include:
Movie nights - indoors or outdoors
Charity walks and events (think "Up All Night" for Ronald McDonald House)
Children's events, festivals and parties
Community events
Weddings - casual, bright seating for the children's (or anyone else's) corner.
Any party; birthday, anniversary, engagement, baby shower, hen's etc
Concerts
Corporate functions requiring something that's a little more relaxed.
Sporting events
Carnivals, Festivals and Street Events
School events, discos and concerts
Church social events
Grand Final or Melbourne Cup Screenings
Or just because you want some bean bags for the weekend with friends!
Our hire bean bags are incredibly effective when used in conjunction with our glow furniture, outdoor, party games and also our brand, new inflatable chesterfields…. Ask us about putting a package together for your next function!
We can deliver all over the Perth Metro area - tell us what you need, where and when and we'll work out a rate for you!

New bean bag colours now available - Blue, Turqouise, Pink, Orange, Black - photos coming soon...
Get in touch with us for special pricing for orders over 25 bean bags.
Indoor / Outdoor Bean Bag

Adult bean bag suitable for indoor or outdoor use.

Colours available on request.

Dimensions (in cm) 110D x 115W x 90H

Hire Charge:
Questions? No problems we'll be in touch (usually within a few hours). Can't wait? Give us a call on 6180 3899 during business hours.
A standard hire for the weekend is from Friday to Monday. You may choose to pickup (or have delivered) your equipment on Saturday if you wish. Our standard hire period for weekdays is for one night however we can usually accommodate pickup the day before your event and return the day after if required.