Please wait ...
Close X
You may be interested in the following items
Helium Tank Hire in Perth
Helium cylinders (Balloon Gas) are now available to hire from Hire King. Choose your size from the products below.

Here at Hire King we now have a full range of balloon and helium solutions.
1. Disposable Helium Tanks (Available NOW)
We now also have disposable helium tanks available for sale. We have 30 balloons and 50 balloons (9" balloons) tanks available. The balloon tanks come with balloons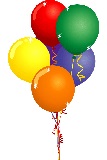 and ribbons. An easy to use package that is convenient and economical.

30 balloon tank with balloons and ribbon= $38.95
50 balloon tank with balloons and ribbon= $54.95

For ordering please visit our party supplies website
http://www.partysource.com.au/balloons/helium-gas-tanks.html
2. Helium Tank Hire
Choose your product below. A regulator for filling balloons is included with every hire.
Questions? No problems we'll be in touch (usually within a few hours). Can't wait? Give us a call on 6180 3899 during business hours.
A standard hire for the weekend is from Friday to Monday. You may choose to pickup (or have delivered) your equipment on Saturday if you wish. Our standard hire period for weekdays is for one night however we can usually accommodate pickup the day before your event and return the day after if required.