Please wait ...
Close X
You may be interested in the following items
Dance Floor Hire Perth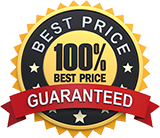 Why not jazz up your next party or event with an awesome dance floor from Hire King!!
We have some of the newest technologies in portable dance floors. These black and white US made dance floors are sure to impress. Hire King is your one stop shop for top quality Dance floor Hire in Perth.
Each tile is 1ft x 1ft and is made from a strong plastic at the bottom with a shiny black and white finish on the top. This means that it can handle wet surfaces and drainage without any fuss. The floors come with an attractive edging ensuring that your guests do not trip. If you wish to use these dance floors on grass or other soft surface an additional underlay floor will need to be put down. While the dance floors have some anti-slip protection they will become slippery if they are wet.

The dance floor can come in either black and white (the classic chessboard effect), just black or just white. Whatever you like!
Dance Floor Options
All our dance floors come in tiles of 1ft x 1ft (approximately 30cm x 30cm), we hire these out in a panel of 3 tiles x 3 tiles which measures approximately 90cm x 90cm. Edging on both sides also adds approx 12cm to the dance floor.
Our most popular sizes are 4 panels x 4 panels (about 14m2) and 5 panels x 5 panels (about 22m2). We hold one of the largest inventories of black and white dance floor in Perth and can accomodate just about any size requirement. Just add the product "Custom Size Dance Floor" to your cart and we will get back to you with a quote. If you are hiring other equipment with the dance floor we can usually also do an excellent package deal.
What size dance floor?
Generally a safe rule of thumb is that 30% of your guests will be on the dance floor at any one time. Of course you will probably know your guests better so you should adjust accordingly. Below is a table which will act as a guide in choosing the right dance floor size:
| | | |
| --- | --- | --- |
| # of guests | # of dancers | Recommended Configuration |
| 60 | 20 | 3 panels x 3 panels |
| 100 | 30 | 4 panels x 4 panels |
| 150 | 50 | 5 panels x 5 panels |
| 200 | 70 | 6 panels x 6 panels |
| 275 | 90 | 7 panels x 7 panels |
| 400 | 140 | 8 panels x 8 panels |
| 600 | 200 | 10 panels x 10 panels |
| 1000 | 350 | 13 panels x 13 panels |
Remember that each dance floor panel is about 90cm x 90cm.
Setup & Installation
The dance floors are very easy to setup and have a simple locking system that locks the tiles together. You can setup the dance floors yourself (we provide instructions) or we can set it up for you for an extra charge.

Pictures

Have a look at some of the uses of our dancefloors.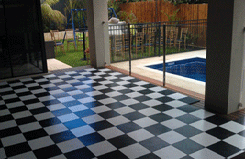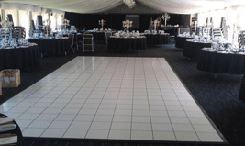 Questions? No problems we'll be in touch (usually within a few hours). Can't wait? Give us a call on 6180 3899 during business hours.
A standard hire for the weekend is from Friday to Monday. You may choose to pickup (or have delivered) your equipment on Saturday if you wish. Our standard hire period for weekdays is for one night however we can usually accommodate pickup the day before your event and return the day after if required.