Please wait ...
Close X
You may be interested in the following items
UV Lighting Hire Perth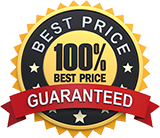 Here are Hire King we have everything you need for a glow/UV/Blacklight party.

UV Black Light makes whites and fluoro colours glow. This is a very popular effect for parties and we have a whole range of products so that you can organise the perfect glow party.

Below is our range of UV lights. All these lights produce the same UV / Blacklight effect but vary in strength and area coverage. Give us a call on 6180 3899 for a recommendation on what you need for your next party!
We also have a huge range of glow and neon products that will glow under the uv lighting. Check out party source for
- Glowing tableware
- Neon Clothing
- Glow face and body paints
- much more
Need a bit of help planning your white party? Check out our article Planning the perfect white party guide.
Questions? No problems we'll be in touch (usually within a few hours). Can't wait? Give us a call on 6180 3899 during business hours.
A standard hire for the weekend is from Friday to Monday. You may choose to pickup (or have delivered) your equipment on Saturday if you wish. Our standard hire period for weekdays is for one night however we can usually accommodate pickup the day before your event and return the day after if required.