Please wait ...
Close X
You may be interested in the following items
Coming Soon to Hire King
Lighting Packages
Special Offer
2 Lights + 1 Stand - $85
3 Lights + 1 Stand - $120
4 Lights + 2 Stands - $160
6 Lights + 3 Stands - $225
Did you know?
We stock over 6000 party supplies in our party store: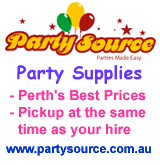 Whether it's balloons, themed decorations, plastic tableware or 1000's of other items we have them at Party Source ( a division of Hire King).
Opening Hours
Canning Vale Store
Mon - Fri: 9am - 5pm
Sat: 9am - 2pm
Sun: Closed

Balcatta Store
Mon - Fri: 9am - 5pm
Sat: 9am - 2pm
Sun: Closed
Hire on Saturday and get Sunday free!
Our recent testimonials:
"Fantastic! Thanks for the hire gear. It made for a wonderful 21st. We'll definitely be back."
Peter Richards
Mount Pleasant
"Great choice of lights, smoke machines and other party equipment. All party guests commented on lights. Recommend to anyone planning a party."
Michael O'Neil
Bellevue (4 May 2013)
"So helpful, the ladies next door are lovely, polite and professional. My hire of the projection screen has been easy and simple and friendly service. Thank you, will definitely come back."
Sara Carless
Kelmscott (20 April 2013)
"Thanks to Hire King's generous sponsorship of the dance floor for our Harry Potter themed Charity Ball, we were successful in raising over $7000 for "Teach Learn Grow" – an organisation which educates children in rural schools."
Simon Thuijs
Crawley (12 April 2013)
"Fantastic quality equipment at a fantastic price. The staff were very helpful and made my wedding day less stressful. Very happy customer and I highly recommend using this business for any function or event!"
Aaron Goodwin
Bayswater (6 April 2013)