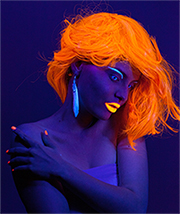 At a white party you'll want the decor, clothes and accessories to be white, silver or glow in the dark. You can keep these parties classy and sleek or go pretty wild and crazy. That being said, this theme is diverse enough for most events; hen parties, birthday parties, engagement parties, a party for no reason, etc!
So, how will you decorate? Anything goes if it follows the color scheme. Black lights will help to set the mood and get everyone glowing. You can even set some black lights to a strobe light option for a super surreal event. For seating, glowing furniture is an effervescent way to go, especially when you can set the colors to whatever options are available, and you know that white is an option. Perfect for ANY color themed party, really. And what is a party without the dance floor? A white dance floor would be calling your guests over to get the party started! For the perfect ambiance, embellish the ceiling with lanterns and honeycomb balls at different levels and some white streamers and silver streamers. If you want to give out party favors, white treat boxes are definitely the way to go.

Now that you have set up your area, finished decorating and invited everyone you know to your party, you are left with one more big question: WHAT EVER WILL YOU WEAR!?
As said previously, you can keep it classy with white dresses and white on white suit and tie combos, even gangster hats. Or you can try something a little more out there with tinsel wigs, glow in the dark teeth, and glow in the dark ears. White feather boas, white tights, white fishnets, tiaras, silver slatted glasses, finger lights, glow in the dark bracelets, some wigs, glow in the dark hairsprayand glow sticks in almost any form are pretty agreeable for whichever direction you want to take your outfit . And ladies, the makeup options can have some super cool effects. White mascara and white eyeliner can really make your eyes pop with a little bit of black liner, and you can make a big statement with white lipstick. Let's not forget about false eyelashes, while we're on the subject of make up. You can find them in many colors and materials.

If it's white, give it a shot; you really can't go wrong!