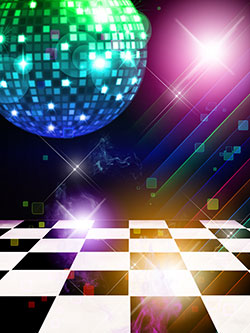 Even if the fashion in the '70s doesn't make a comeback, '70s disco parties will always be one of the most popular go-to party themes. If you're planning a disco party, you know that party decorations are top priority and setting the mood is your job as the party planner. Don't know what to do for decorations? Read on for great decoration ideas:
For a modern twist to the classic disco ball, go with a LED disco ball light for the main lighting for a disco dance party! These disco ball lights are fun and flashy additions to any disco party, and it'll get your guests boogieing on the dance floor.
Make drinks and refreshment tables shine with disco ball coasters! These fun coasters are a groovy way to get your party guests into the disco mood. You can also use them as wall decorations.
3. Street Signs
Guide your guests to Funky Town or Disco Drive with colorful street signs! Street signs make for great wall decorations, and you can use them to label different rooms at your venue. For instance, Funky Town can be a photo-taking area while Boogie Blvd. can be a dancing area for your guests.
Give your decorations a disco edge with decorative disco ball hanging swirls! Hang them on the ceilings or in entryways for a complete disco party atmosphere. There's no disco without the disco ball!
Jazz up your disco party with disco-themed balloons! These balloons make a festive addition, and you can also use them for take-home gifts for guests, especially for little groovy youngsters coming to a '70s disco birthday party. You can also use these balloons as decorations outside your venue.
Colorfy your disco party with glow furniture! With glow furniture, you can set up a hangout area around a dance floor or an outdoor sitting area for your guests. Glow furniture pieces make for refreshing and renovating party elements that'll make your disco party unique and fabulous.
Extra Disco Party Tip: For your disco party, spice it up by getting everyone to dress up in far out costumes, such as hippies and disco divas. After the party, host a best dressed contest and give the crown to the disco king or queen.
Whether for a birthday party or a Saturday night bash, you can have a disco party at any time for any occasion! Consider these decoration ideas for your next '70s or disco-themed event.