Get Your Glam On! The Basics On How To Prepare For An Awards Night Themed Party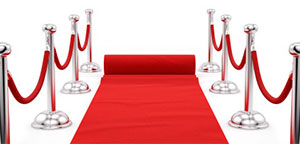 From the glam to the glitz, it's no wonder that awards night themed parties are one of the most popular to have. Whether it's for a 21st birthday party or even an engagement, an awards night themed celebration is a fantastic way to kick off any fancy and formal occasion. If you're considering having an awards night themed party or a Hollywood-themed event, read on for tips on throwing a memorable one:
The Decorations
Decorations are always a must for every party, but a wide range of decorations for Hollywood and award night themed events are available, making it hard to choose which decorations you should have for your party. Even though these types of parties have tons of glitz and glam, it doesn't mean that you have to overdo the party decorations. To help narrow down your list of party supplies to use, here are several basic decorations you should have for your awards night themed celebration:
The Refreshments
When it comes to entertaining your guests with food, do it small and do it gourmet. Since it's a Hollywood-themed party, appetizers should be the the only type of food served at this event. Most people mingle with others at awards night ceremonies rather than having a sit-down dinner party, so make your refreshments portable, so to speak, and finger food friendly. Here are a few party supplies for you to consider when serving your
Champagne Flutes – Instead of simple drink glasses, go with sophisticated champagne flutes, and serve real champagne and other drinks to your guests.
Popcorn Boxes – Having a movie night for your Hollywood-themed bash? Add gourmet popcorn to your refreshments list, and pour them into these great popcorn boxes to set the movie mood.
Extra Glam
Let your Hollywood-themed party glow with fun, colourful glow furniture! If you're having the party at a nightclub or you're planning to have a hangout section for your guests, these glow furniture pieces are a great addition to your bash.
For any Hollywood or awards night themed party, be sure to set a dress code so that your 'celebrity' guests come in style and are red carpet ready! Enjoy this night of glitz and glam with your party guests, and use these tips to help you throw the party of the year.